The process
Pallet Alliance does more than just show up and quote pallets.
Pallet Alliance adheres to a proven process grounded in material handling and procurement best practices. This delivers the flexibility to accommodate the unique needs of each customer and individual site.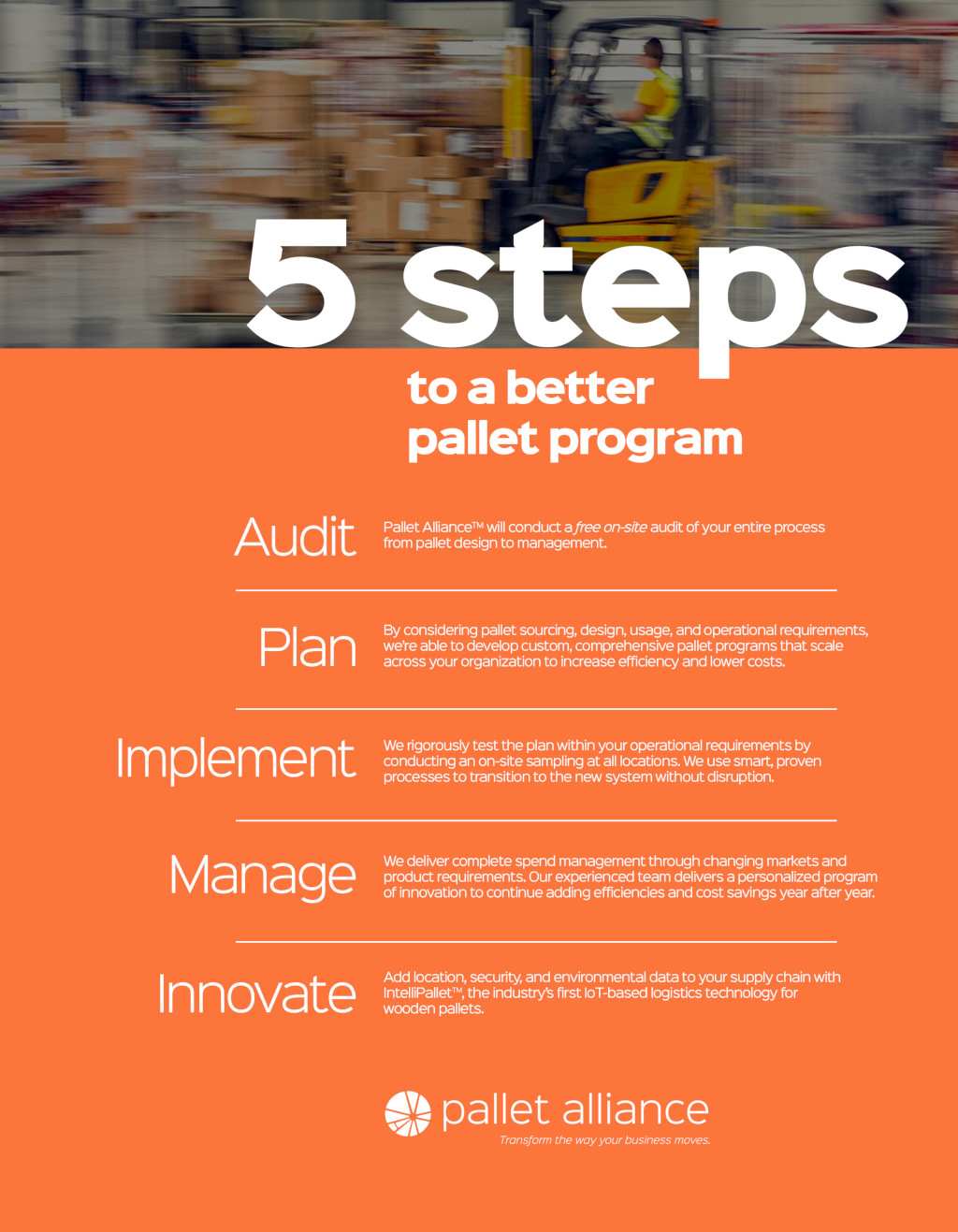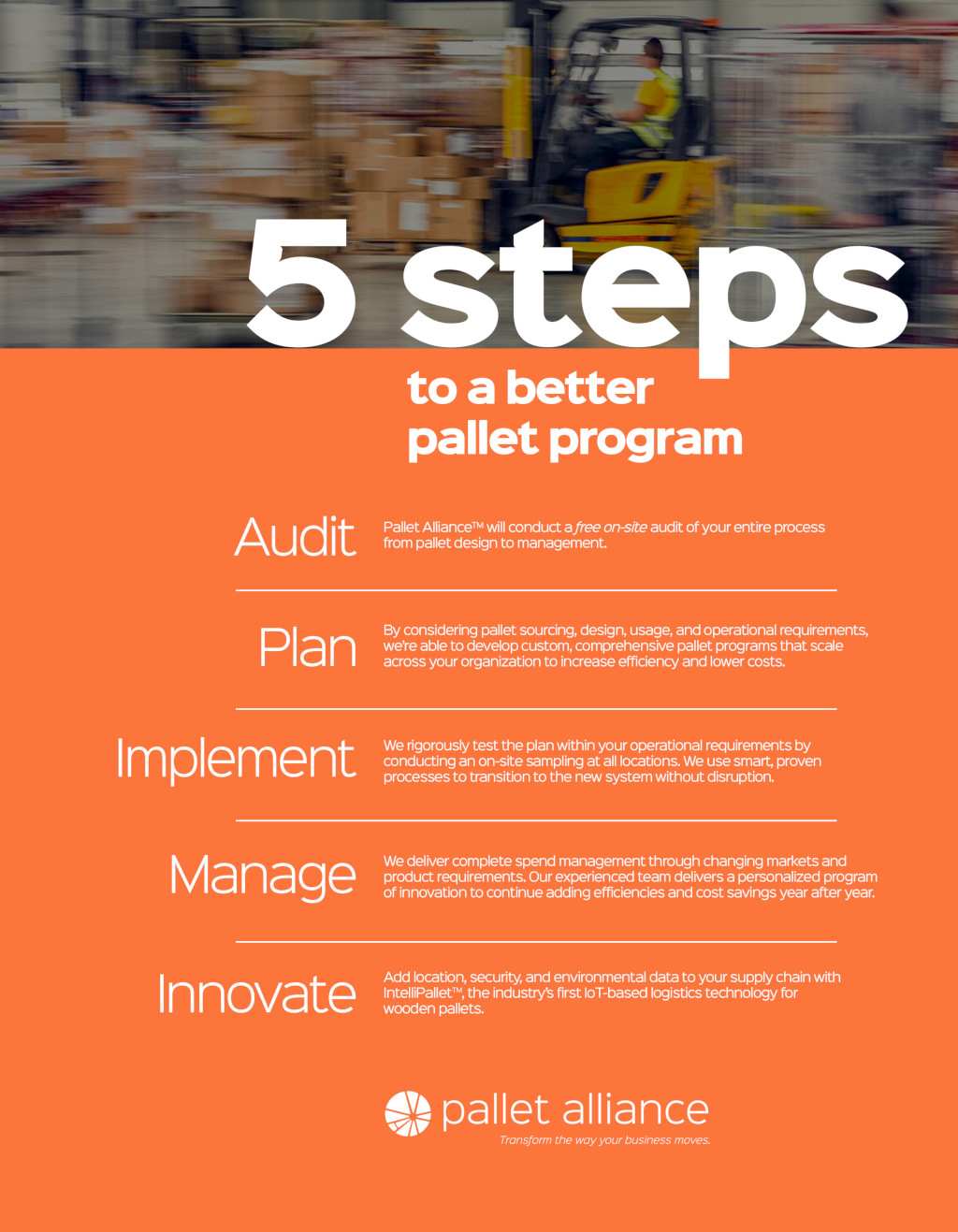 5 Steps to a Better Pallet Program
Audit- We will conduct a free on-site audit of your entire process from pallet design to management.
Plan- By considering pallet sourcing, design, usage, and operational requirements, we're able to develop custom, comprehensive pallet programs that scale across your organization to increase efficiency and lower costs.
Implement- We rigorously test the plan within your operational requirements by conducting an on-site sampling at all locations. We use smart, proven processes to transition to the new system without disruption.
Manage- We deliver complete spend management through changing markets and product requirements. Our experienced team delivers a personalized program of innovation to continue adding efficiencies and cost savings year after year.
Innovate- Add location, security, and environmental data to your supply chain with IntelliPallet™, the industry's first IoT-based logistics technology for wooden pallets.
If you have any questions about how the process works or would like to get started with having us transform the way your business moves, don't hesitate to reach out to us.
The first step lays the foundation for a smart, data-driven solution by establishing benchmarks for volume, product, price, use, and logistics requirements. Combined with plant-by-plant environmental scans, this data informs the development of the solution framework.
After controlled trials to gauge the effectiveness of recommended changes, the solution is implemented. A typical Pallet Alliance implementation includes depleting old inventory, planning and executing process changeover and expanding the program.
Expansion begins an ongoing cycle of continuous improvement, translating lessons learned to new sites, and modifying pallet designs and ancillary processes.
Optimized processes and long-term partnerships yield solutions managed with the same care and commitment as internal purchasing and operations personnel.
Pallet Alliance implemented QR code-based delivery and billing documentation to facilitate automated processing by the customer's ERP platform, eliminating errors associated with manual entry and saving time and resources for a Fortune 500 company.
Pallet Alliance developed wood lifecycle management concepts for the retail sector that created new opportunities to maximize wood-stream value for vendors and customers.
Our comprehensive pallet management programs include custom designed pallets and unit load solutions to help you effectively manage your supply chain.
Pallet Alliance's team leverages more than 100 years of combined industry experience, retaining customers for a decade or more on average.
Pallet Alliance saved a global leader in labeling & packaging materials $375K over a 12-month period by developing & managing cost savings projects.
Pallet Alliance pioneered the use of half-inch, low-profile pallets – a design that dramatically reduces costs and influences many footprints still commonly found in the roofing industry today.
Pallet Alliance delivered $1.65M in annual savings for a building materials company by creating a pallet solution that optimized source, design & price across plants nationwide. A year later, the company saved an additional $1.2M.
Our patented IntelliPallet™ is the industry's first IoT-enabled logistics platform to be integrated with wooden pallets.
Pallet Alliance delivered up to $4M in annual savings for a Fortune 500 company by developing new vendor initiatives.
6 million pallets are procured annually through our national network of pallet manufacturers in North America.
In 2019, Pallet Alliance designed and delivered the industry's first IoT-based logistics technology solution for wooden pallets ("IntelliPallet™").
Founded in 1995, Pallet Alliance has 25 years of experience designing custom solutions, procuring materials and managing national pallet programs.
Peerless Research Group ("PRG") named Pallet Alliance as the preferred private pallet management company (in 2017).
Our technical team includes individuals with degrees and expertise in the areas of wood science, pallet design, packaging systems.